2018-2022

International Program Overview
Alpha Kappa Alpha Sorority, Incorporated® is dedicated to implementing programs of service that enhance the social, economic, and educational well-being of the local, national and international communities. Programs remain the heart of AKA. The size and scope of services provided to our communities have grown and significantly improve the quality of life for all who reside within our service areas. 
The program theme for 2018-2022 is Exemplifying Excellence Through Sustainable Service. The International Program includes five program targets that are designed to advance the mission of Alpha Kappa Alpha with excellence and underscore our commitment to sustainable service. For more information on Alpha Kappa Alpha Sorority programs, visit www.aka1908.com.
The five program targets for 2018-2022 are:
Target 1: HBCU for Life: A Call to Action
Alpha Kappa Alpha will continue its focus on education with an emphasis on historically black colleges and universities (HBCUs).
DTO continues to promote HBCU's by enlightening the community regarding HBCU's as institutions of excellence with historical and current significance.  DTO has contributed in CY 2018 and 2019, $8,674.00 towards the AKA Endowment initiative for HBCU's, and assisted five students with $1,000 scholarship funds to attend an HBCU in CY 2020.  DTO also offers $6,000 in scholarships annually through the Chapter sponsored fifty-year Signature Program of Culturama.
The Signature Program is #CAPSM which is the abbreviation for College Admissions Process. It is designed to assist students in their efforts to enter college by providing a hands-on approach that includes all the steps from researching various colleges to actually completing the application process.
DTO has assisted high school students with the college application and enrollment process; we have worked with community high schools to identify junior and seniors who need assistance initiating and completing the college application process.  In addition we provide an HBCU College tour annually. 


Alpha Kappa Alpha will continue to raise community awareness of critical health issues impacting African-American women. The primary focuses will be breast cancer awareness and prevention, heart health, nutrition and wellness, and care for the caregivers.
DTO shares information concerning breast cancer, and increased awareness regarding the risk factors that contribute to breast cancer, and provide access to mammograms through the AKA Mobile Breast Cancer Screening Unit.  Annual Pink Goes Red Days are promoted for sorors and our community participation.


DTO raised awareness regarding the impact of caregiver syndrome on the quality of health of caregivers, and increased awareness of resources and support available to caregivers by recognizing different African American nursing support staff by presenting Thanksgiving baskets of cheer.

 Target 3: Building Your Economic Legacy
Alpha Kappa Alpha will emphasize financial planning, asset accumulation, and wealth building including savings and investments, managing debt, and improving credit.
DTO increased direct member support of Black businesses by concurrently raising community awareness of strategies that positively impact African American entrepreneurs and their businesses, thus building wealth in the African American community. Additionally, DTO continues to partner with local food bank ( Feeding the Gulf Coast) to supply goods and services to the homeless and individual families.

Alpha Kappa Alpha will expose students to arts enrichment and culture by focusing on visual and performing arts and by showcasing talent through the exploration of writers, entertainers and various other artists.
To celebrate the contributions of African American artists during the Harlem Renaissance through student research and chapter sponsorship of student talent show cases.  DTO sorors supported The Jazz Studio in a student talent show case.  In 2020 DTO sorors are collaborating with the Girls and Boys Club.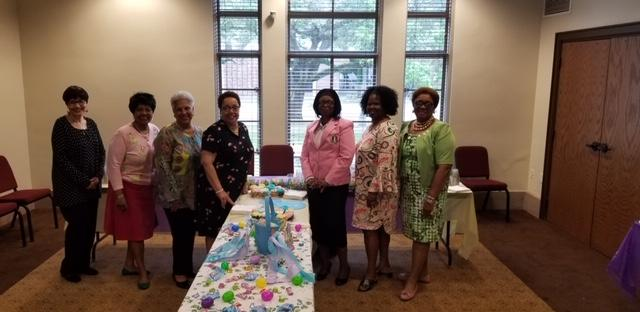 DTO implemented, collected and distributed gently worn shoes and transported to Soles4Souls for children and adults in less developed countries through partnerships with international organizations; participated in the Lions Club International eyeglass initiative designed to prevent blindness, help restore eyesight, and improve eye health;  made pillow case dresses for girls and shirts for boys in Haiti; supported the Refugees in America Assistance Program by donating food and monetary items to Catholic Services to support activities that assist refugees and their families to integrate into American life.

In addition to the program targets, the Exemplifying Excellence Through Sustainable Service administration is pleased to continue Community Impact Days. Chapters will engage in simultaneous activities that will benefit the community and continue our commitment to lifelong service.
A significant feature of this programmatic thrust is the launch of AKA UniversitySM! This exciting new platform will serve as the umbrella under which education, training, and leadership development will emerge so that members can enhance their personal development and provide more impactful service to the community.